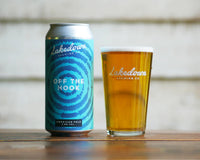 Lakedown Brewing Co. 'Off The Hook' APA 440ml
£3.50
'ISLAND SOUND' is the Lakedown Vermont Pale Ale, a hazy, hoppy & fruity session pale.
It's a New England Pale, crammed full of the finest Citra, Mosaic & Amarillo hops. They have created this beer to showcase it's silky finish and full tropical flavours.
440ml | 3.8% ABV | 1.7 uk units
Ingredients: Water | *Barley | *Wheat | Hops | Yeast 
* Contains Gluten. Vegan friendly.