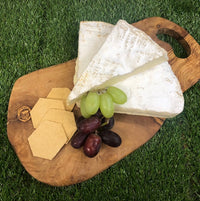 Brie de Meaux - Dongé
£7.50
Brothers Luc and Jean-Philippe Dongé make Brie de Meaux in their 3rd generation family dairy, situated in Meuse just east of Paris.
Their recipe, techniques and equipment are those of a farmhouse producer, achieving their productivity without having to mechanise or sacrifice quality. They mature their cheeses in house - the only Brie de Meaux producer in the area to do so.
Their Brie de Meaux is savoury, buttery, rounded and vegetal. One of our best selling cheeses in both our shops.
Cows Milk / Unpasteurised